Atlantic Spine Specialists
Carl P. Giordano, MD
Orthopedic Spine Surgeon
Carl P. Giordano, MD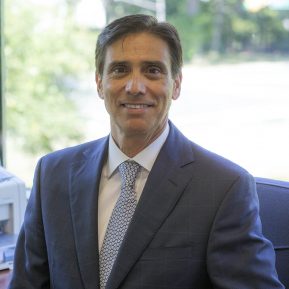 Dr. Giordano graduated from Villanova University with honors, after which he attended Rutgers Medical School. Dr. Giordano went on to complete his orthopedic residency at the Hospital for Joint Diseases – New York University in New York City, which has been ranked among the top 10 orthopedic programs in the country by U.S. News & World Report. He continued at the Hospital for Joint Diseases where he completed his fellowship in spinal surgery and trained under world-renowned spine surgeons. In addition, he completed an orthopedic trauma fellowship at Harborview Medical Center, a Level 1 trauma center.
PROFESSIONAL HIGHLIGHTS
Dr. Giordano is the author of five orthopedic and spine book chapters as well as 11 peer-reviewed articles published in orthopedic journals. He has published original research in orthopedics on several topics as well. He's also the author of the non fiction memoir, Shoot The Moon: The True Story of a Look Behind the Curtain of Medical School and Residency…and Surviving the Worst in Life. He has given over 15 presentations and poster exhibits along with over 25 lectures to the scientific community. Dr. Giordano has been the recipient of the Marian Frauenthal Sloane Award for Outstanding Orthopedic Research, Resident Teaching Award, Master Care Recognition Award, Kingston National Registry, Numerous Healing Hands Awards, ACE Awards and has been the recipient of research grants.
Dr. Giordano has been in practice at Atlantic Spine Specialists since 1997. He serves on the staff at Morristown Medical Center and has held the Chair of Vice Chairman of the Department of Orthopedics, Chief of the Spine Section, and has served on several hospital committees including the Atlantic Neuroscience Institute. He has served as the medical director at Stryker Howmedica Tissue Bank and Health South Physical Therapy and he has served on several committees for the American Board of Spine Surgery including the ethics and examination sections.
Dr. Giordano has been honored three times by New Jersey Monthly's "Top Doctors," Better Living Magazine's "Best Doctors," and "Top Surgeons" by the Consumer Research Council of America. He is a member in good standing of the American Academy of Orthopedic Surgeons, the Morris County Medical Society, the New Jersey Medical Society, the New Jersey Orthopedic Society, and the North American Spine Society.
Dr. Giordano has extensive experience in both surgical and nonsurgical management of spinal disorders. He utilizes microscopic surgical techniques and traditional surgery. All conservative measures are exhausted before surgery is considered.
Insurance
We accept most Workers' Compensation and participate with NJ PIP Insurance.

Atlantic Spine Specialists
SPECIALTIES & CONDITIONS

88 Reviews

120 Reviews

149 Reviews

4 Reviews