SPINAL FRACTURES
SPINE INJURY
What should I know about the spine?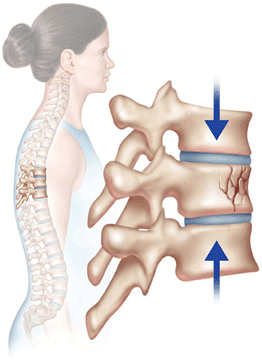 To understand spinal fractures, it's helpful to have a basic understanding of spine anatomy. The spinal column is made up of 33 bones called vertebrae which enclose and protect the spinal cord. The vertebrae are separated and cushioned by intervertebral discs. The spinal nerves exit the spinal cord between vertebrae and branch out across the body.
What are the symptoms of a spinal fracture?
When a vertebra is fractured, bone fragments can damage the spinal cord, nerves and intervertebral discs. The location of the fracture along the spine will dictate where the symptoms are experienced. An injury to the spinal cord can affect feeling and movement in the area of the body below the injury; for example, a spinal cord injury in the neck can affect the arms and legs. Symptoms may include one or more of the following:
Severe pain
Weakness, numbness or tingling
Paralysis in the arms or legs
The severity of the symptoms depends on the extent of the damage, ranging from a strained ligament or muscle to an injured spinal cord.
For a visual reference you can watch an animation of a compression fracture.
Compression Fracture (Trauma)
What are the causes of SPINAL FRACTURES?
Vertebral compression fractures can be caused by osteoporosis, trauma, and diseases affecting bone. Osteoporosis (reduced bone density) and menopause may increase the chance that a person could sustain a vertebral compression fracture with little or no trauma. Cancer, chemotherapy, radiation therapy, hyperthyroidism, and long-term use of corticosteroids also causes loss of bone mass and increases risk for fracture without trauma. High-energy trauma can cause fractures of the thoracic and lumbar spine that may be extremely unstable and often result in serious spinal cord or nerve damage.
How is a spinal fracture diagnosed?
Accurate diagnosis is the key to appropriate and effective treatment for your symptoms. Dr. Giordano and Dr. Nachwalter are highly experienced in assessing and treating spinal fractures. Emergency treatment for a suspected spinal fracture caused by trauma usually begins with pain control and stabilization to prevent further damage. Next, your doctor will:
Review your symptoms (such as where you have pain, weakness, and numbness) and what limitations these symptoms place on your everyday activities
Perform a physical exam including an assessment of nerve function, muscle strength, response to sensory input (such as pressure and touch) and check reflexes
Evaluate your medical history
Order diagnostic tests such as x-rays, CT and MRI scans or review the results of scans you have already had
Your doctor will review treatment options once he has diagnosed your condition and determined the cause of your symptoms. He will review the risks and benefits of each option and assist you in deciding which one is best for you.
What is the treatment for a spinal fracture?
Whenever possible, Dr. Giordano and Dr. Nachwalter recommend conservative, non-surgical treatment for spinal fractures. After determining the extent of the damage, your doctor may recommend one or a combination of the following treatment options:
Modified activity
Medication
Physical therapy
Spinal surgery
Atlantic Spine Specialists
SPECIALTIES & CONDITIONS

88 Reviews

120 Reviews

149 Reviews

4 Reviews