ANTERIOR CERVICAL DISCECTOMY & FUSION
DISCECTOMY & FUSION
Anterior Cervical Discectomy & Fusion
Q & A
What are the benefits of ACDF surgery?
Anterior cervical discectomy and fusion relieves pressure on the spinal nerves or spinal cord caused by a herniated cervical disc or degenerative disc disease of the neck. The goal of this procedure is to alleviate arm and neck pain for our patients.
What should I know about ACDF surgery?
Dr. Giordano and Dr. Nachwalter perform spinal surgery only in highly-ranked local hospitals with their dedicated surgical team. Our surgeons use an operating microscope when performing a cervical discectomy for optimal precision.
Your surgeon will begin the surgery by making a 1 to 2-inch horizontal incision in the front of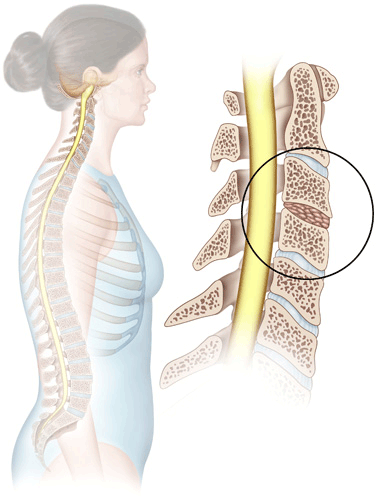 the neck. The incision is made to the right or left side of the windpipe (trachea) to provide access to the front of the cervical spine. The trachea, esophagus, arteries, and muscles at the front of the spine are moved aside (retracted). Most of the herniated disc is removed with long, thin instruments and a bone graft is inserted in its place between the vertebrae. A metal plate is secured to the vertebrae above and below the disc to provide further stability, eliminate the need for post-operative immobilization for a more comfortable recovery and a rapid return to function. Over time the body produces new bone around the graft which fuses the 2 vertebrae together.
To see how this surgery is performed, watch our 3D animation.
ANTERIOR CERVICAL DISCECTOMY & FUSION
What can be expected after ACDF surgery?
Most patients go home within one day of their cervical discectomy, but some stay in the hospital overnight. It's important to avoid bending or twisting your neck while you heal. Many patients have difficulty swallowing for 2 to 5 days due to retraction of the esophagus during the surgery.
You will receive specific recovery instructions from your surgeon and can ask him any questions during your post-operative appointments. Unlike many medical practices, the surgeons at Atlantic Spine Specialists are personally involved in all aspects of patient care. It usually takes 4 to 6 weeks to recover; however, the fusion often takes 18 months to fully form.
The majority of patients will experience significant relief from their arm and neck pain shortly after surgery depending on the:
Length of time symptoms were experienced before surgery
Degree of nerve inflammation
Amount of nerve compression
Keep in mind that arm pain can continue for several weeks after surgery. Also, many people experience intermittent nerve irritation for the first several weeks after surgery. However, patients report that the positive impact this surgery has on their lives is worth the temporary discomfort of the procedure.
Atlantic Spine Specialists
SPECIALTIES & CONDITIONS

88 Reviews

120 Reviews

149 Reviews

4 Reviews