CERVICAL DISC REPLACEMENT
DISC REPLACEMENT
Cervical Disc Replacement
Q & A
What are the BENEFITS oF Cervical Disc Replacement?
Cervical disc replacement relieves pressure on the spinal nerves or spinal cord caused by a herniated cervical disc or degenerative disc disease of the neck. The goal of this procedure is to alleviate arm and neck pain. In our New Jersey practice, total disc replacement surgery is an alternative to anterior cervical discectomy and fusion. Advantages of disc replacement over fusion include:
Preserved motion in the neck
Reduced pain
Decreased degeneration of adjacent discs
Limited disability
Earlier return to work
During your consultation, your surgeon will determine whether total disc replacement is an option for you.
What should I know ABOUT CERVICAL DISC REPLACEMENT?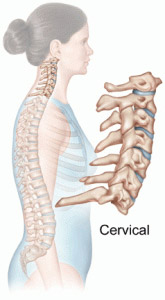 Dr. Giordano and Dr. Nachwalter perform disc replacement surgery only in highly ranked local hospitals accompanied by their dedicated surgical team. The procedure is performed with the patient lying face up and under general anesthesia. The surgeon begins the surgery by making a small incision in the front of the neck to one side of the windpipe to provide access to the front of the cervical spine. Soft tissues such as the trachea, esophagus, arteries, and muscles at the front of the spine are carefully moved aside (retracted) to expose the cervical spine.
Using an operating microscope, the surgeon removes the damaged disc with long, thin instruments. The surfaces of the adjacent vertebrae are cleared and shaped for the artificial disc device, which is then inserted into the intervertebral space and secured in place.
What can be expected after CERVICAL DISC REPLACEMENT?
Most patients will go home within one day of their cervical disc replacement surgery. During your post-operative appointments, you will receive specific recovery instructions from your surgeon and have the opportunity to ask him questions. Unlike many medical practices, the surgeons at Atlantic Spine Specialists are personally involved in all aspects of patient care.
Patients typically experience significant relief from their arm and neck pain shortly after surgery depending on the length of time symptoms were experienced before surgery, the degree of nerve inflammation and the amount of nerve compression.
Atlantic Spine Specialists
SPECIALTIES & CONDITIONS

88 Reviews

120 Reviews

149 Reviews

4 Reviews